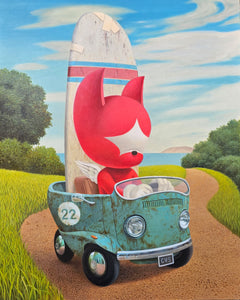 Weekend Ain't Over Yet by Rene Cuvos
Size: 61x76cm
Medium: Oil on canvas
Year: 2023
Biography: Rene B. Cuvos is a Filipino Asian Modern & Contemporary artist who was born in 1980and graduated with a Bachelor of FineArts major in advertising.
Rene has 12 solo shows to date and participated in numerous group exhibitions in the Philippines, Seoul Korea, Tokyo Japan, Taiwan, US and in Europe..
His work dreams up storybook landscape inhabited by strange and wonderful creatures. Inspired by illustrated children's books and cartoons that he grew up with and exploring the world of lucid dream.